OUR MISSION AT STOKED IS TO CREATE A COMMUNITY OF FEARLESS LEADERS THROUGH MENTORING, OPPORTUNITY, AND ACTION.
WHY STOKED? THE OPPORTUNITY GAP
According to The National Bureau of Economic Research, a child's family income is now the greatest predictor of how successful that child will be as an adult. Children from low income communities are less likely to graduate from high school and more likely to battle low self-esteem. On the flip side, a child with wealthy parents is more likely to graduate from college and pursue a fulfilling career. STOKED comes into inspire underserved teens and give them the resources most middle and upper class families provide for their children, like mentorship, college counseling, resume building and so much more.
We believe that riding a wave, building a skateboard, and gliding down a snowy mountain can show teens that they are capable of greatness. Individual sports force kids to address fear, dig deep, and conquer by trying. In our book, failing is simply a reason to do it again. When they succeed the glory is internal, a feeling of self-accomplishment that instills resilience, confidence and excitement to keep tackling new challenges. STOKED gives access to opportunity, placing kids in environments that not only change their perspective, but also their lives.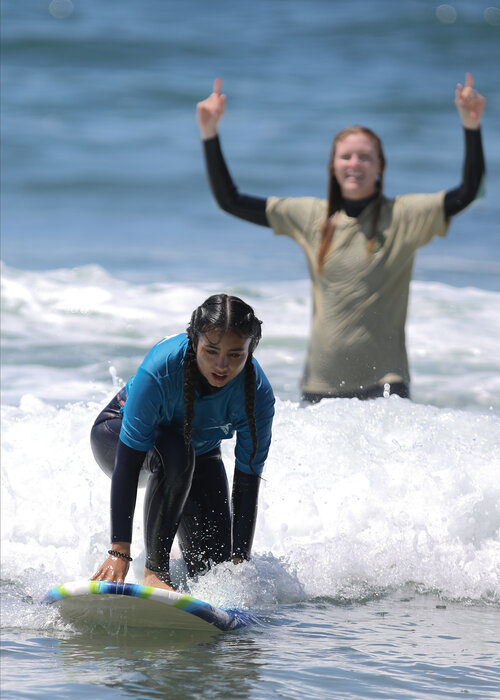 DEEPLY ROOTED IN EACH COMMUNITY WE SERVE, STOKED WORKS TO CLOSE THE OPPORTUNITY GAP AND PREPARE DISADVANTAGED STUDENTS FOR WHAT'S AHEAD.
STOKED DEVELOPS A COMMUNITY OF FEARLESS LEADERS THROUGH MENTORING, OPPORTUNITY, AND ACTION.
6,700 youth served since 2005

Currently serving 650 youth, in 23 schools, and 3 cities (Visual: NY, LA, CHI)

100% of STOKERS who complete 4 years of our program graduate from high school

Through action sports we accelerate youth development, critical thinking, communication, and collaboration skills.
WHAT STOKED STUDENTS SAY…
100% of students feel safe at STOKED.

100% connected with and learned from their coach and mentors.

100% of students want to participate in more STOKED programs in the future.

93% felt that STOKED projects helped them learn time management

89% feel more connected to their school and community because of STOKED.

84% were more active this year because of STOKED weekend programs.
570 STOKED Hours / Per Student / Per Year – all through the mentorship program (or under the banner of mentors)

Project-based Learning Activities / College and Career Counseling

Physical Activity

Community Service
THE STOKED STUDENTS / WHO WE SERVE
90% of youth receive free or reduced lunch at their public schools

93% of youth are Black, Hispanic or Asian
When I was first asked to donate to STOKED, its message struck me right down to my core. Skating, surfing and snowboarding have played a big role in my life and I'm not sure where I would be without them. I was lucky to be born into a family who was able able to expose action sports to me. However, not everyone is so lucky. That's where STOKED comes in.
After reaching the level of snowboarding that I had, getting injured changed my life and made me reevaluate how I could contribute to the sport I love. I realized that there is a group of people who would love to perform at high level, like I did, but don't have access to the resources. STOKED gives kids a taste of what it's like to be a professional snowboarder, and helps them achieve their goals no matter their circumstances.
I met Steve a while back and was immediately drawn to his magnetism. I began to attend STOKED events and kept in touch with STOKED. As time went on I wanted to play a more supportive role in the organization. I began finding volunteers, raising money and fostering relationships between STOKED and other businesses. STOKED is something I believe in and I want to help it grow however I can.