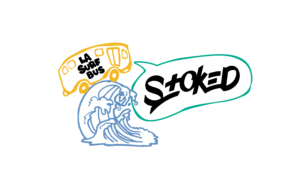 A profound mission drives the STOKED x Surf Bus partnership: to broaden the horizons of Los Angeles students from historically underserved communities. Our goal is to provide these young individuals with transformative coastal experiences, all while fostering a deep investment in the blue economy.
By using mentoring and the exhilarating world of surfing as our gateway, we aim to inspire and empower. In our sights, we have a target of 200 youths under 17 years old, an additional 50 youths aged 17 and above, and an impressive cadre of 250 dedicated mentors—all committed to embarking on a 10-month journey that promises growth, adventure, and lifelong connections.
Our older youth, aged 17 and above, will be afforded an incredible opportunity as they take on roles as surf instructors starting from July 2024. Not only will they further develop their skills and passion for the sport, but they'll also become mentors in their own right, guiding the next generation of wave riders.
For each session, we'll accommodate a maximum of 25 students, ensuring each participant receives the attention, guidance, and support they deserve. As we embark on this exciting journey, please note that priority will be given to students who have previously participated in any STOKED programs, emphasizing our commitment to long-term growth and development.
Together, we're creating waves of change, empowering young minds, and investing in the future—both for these students and the blue economy. We invite you to be part of this incredible initiative as we surf towards brighter horizons, one exhilarating experience at a time.