STOKED was built on the premise that mentorship is essential for the development of dynamic, ambitious youth. Mentors are critical to our programs, instilling confidence and core values, and challenging all STOKED youth to become resilient leaders. Our mentors provide guidance, support, and consistent encouragement in a variety of ways, whether virtually or through sports and other activities. At STOKED, we acknowledge that we got to where we are today because of the people who championed our growth. Are you ready to pay it forward?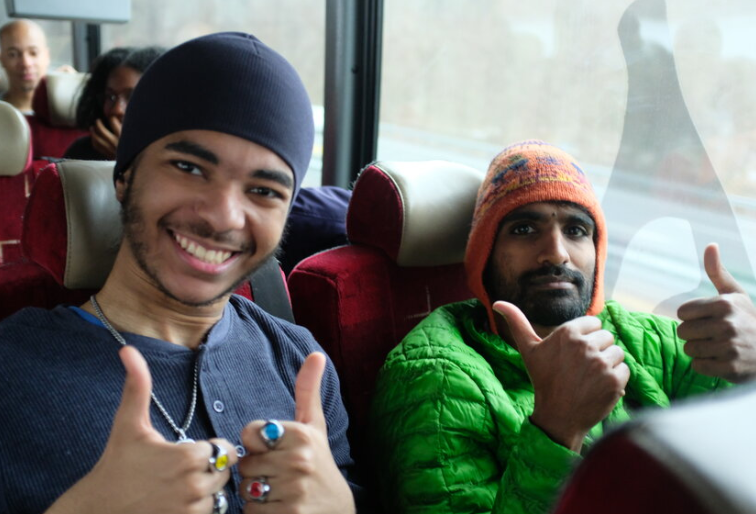 One of the things that make STOKED Mentors so special is their willingness to share their strengths and get out of their comfort zone to try new things. So whether you are a pro or you've never been on a board before, the most important thing is that you are committed to the journey and the youth, and lead with an open, positive mindset.
That being said, there are so many ways to get involved as a mentor:
Weekend Skateboarding Sessions: In the Spring & Fall, join students for 2-4 hour skate sessions at a local skatepark learning basics and more advanced tricks.

One-on-one Mentoring: Virtually or in-person, a mentor may pair with a mentee of similar interests to set goals and support them through high school into their career path of choice.
Weekend Surfing Sessions: Over the summer, Mentors provide 1-on-1 surf instruction for 4 hours a session. Surf Mentors are in the water pushing mentees into waves, and may help out with swimming lessons too. 

STOKED to Serve: In addition to action sports, join students each season to engage in community service projects like cleanups, mural painting, tree-planting, and even building new skateparks!
Weekend Snowboarding Sessions: During the winter months, Mentors teach small groups basic snowboarding techniques. Snow trips are usually 10-12 hour days on weekends. Snow Mentors should be comfortable on blue runs and should be able to link turns.

Afterschool Brand Build Cohort: Join STOKED with a group of 3-5 your colleagues and help students design and implement their own innovative brands to address crucial issues in their community.
Attend a 1-hour STOKED mentor online training
Complete a background check
Commit to at least 1 year of mentoring
Attend in-person action sports activities (COVID permitting), and/or…
Get paired with a one-on-one mentee, virtually or in person
STOKED ALLY
Ideal for mentors with limited time availability, but unlimited enthusiasm. Must attend initial STOKED Mentor Training and be available for occasional conversations with mentees. A STOKED Ally advocates for youth involvement and inclusion in action sports wherever they go. They are welcome to join in-person or virtual events when available.
Time Commitment: Minimum 1 season (usually ongoing)
STOKED ROLE MODEL
A STOKED Role Model focuses on providing professional opportunities for youth, and supporting the creation of their own businesses. Build a cohort of 3-5 mentors within your company to support mentees as they work together to build their own action sports-related social impact brand. Whether you lead a design workshop series, talk financial literacy, or set up an internship opportunity at your company for STOKED youth, the possibilities to share valuable professional insight to support their future career goals are vast. 
Time Commitment: Min. 1 season
STOKED MENTOR
A STOKED Mentor is invested in the success of our youth, and an engaged member of the Mentor Community. They attend quarterly mentor trainings, have consistent communication with a mentee virtually or in-person, guiding them through goal-setting and career support for at least one school semester. Additionally, Mentors attend in-person action sports activities whenever possible (surf, snow, skate, service).
Time Commitment: Min. 1 school year
STOKED CAREER PIPELINE
This one-on-one virtual mentorship option pairs professionals in action sports and creative industries to young adults interested in careers along the same line. Career Pipeline Mentors are paired with one mentee throughout the year to build a meaningful relationship, share professional experiences and expertise, support them through networking, and get them on the right track towards their dream job.
Time Commitment: Minimum 1 year